Recently Acquired
ABE VIGODA – Animal Ghosts 7" (mosher hall/post present medium)
BLACK JOE LEWIS & THE HONEYBEARS – S/T 10" + mp3 (lost highway) – A really good friend of mine from college is in this eight piece garage soul act. They are exceptional live and the lead singer is insanely passionate, like James Brown, especially when he sings "Bitch, I Love You".
HEARTSREVOLUTION – Switchblade EP/CYOA + Bonus Remixes (iheartcomix)
HR/VALIENT THORR – Split 7" (volcom) – Last of six split 7"s released by Volcom ent. Vinyl Club for their 2008 subscription. Previous releases featured Dark Meat, Monotonix, Red Fang, RTX, Witch and more.
INTELLIGENCE – Fido, Your Leash Is Too Long 7" (plastic idol)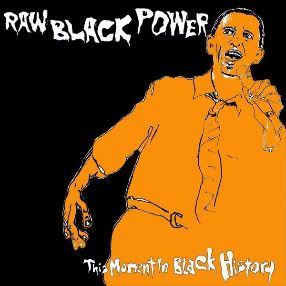 THIS MOMENT IN BLACK HISTORY – Raw Black Power 7″ (insect) – Silkscreened sleeve. Features two tracks: "Obama" and ?
TOTAL ABUSE – S/T (deranged) Hardcore thrash and grind punk that is completely solid and technical; no sloppy non-sense. Three/Fifths of the band reside in Austin; their drummer is based in Oakland and another guy is in Brooklyn, so catch them whenever they are able to play. Dustin Pilkington of Best Fwends is in this band too. The CD version features the S/T LP, the Sex Pig EP and the 8 Song Demo.
TOTALLY MICHAEL – S/T (iheartcomix) – This is a very fun & entertaining power-pop-punk album that is made for the Summer. Totally Michael is touring right now and will play in Dallas on March 21st at the Lounge on Elm St with Death Set, Team Robespierre, Ninjasonik and Cerebal Ballzy.
WOVENHAND – Ten Stones (sounds familyre) – Playing Club Dada on March 7th with True Widow and Shiny Around the Edges
This entry was posted on February 10, 2009 at 1:01 am, filed under News.
Bookmark the permalink.
Follow any comments here with the RSS feed for this post.
Both comments and trackbacks are currently closed.