This Week: Two Shows
Thursday, Sept. 24th, 2009 8:00pm
11pm Experimental Dental School – Portland drum/noise/guitar duo
10 pm El Paso Hot Button – Oklahoma solo dissonant garage punk
9pm History At Our Disposal
@ The Lounge on Elm St
2810 Elm Street
Dallas, TX 75226
$7 for 21+, $10 for under 21
The last two times that San Francisco's Deerhoof came through Dallas, EXPERIMENTAL DENTAL SCHOOL (aka X.D.S.) was their chosen main support. X.D.S. is a Portland, OR drum, noise and guitar duo with male & female vocals. Get their new album, Forest Field, for FREE.
—————-
Saturday, September 26th, 2009 – 8:00PM
11:40pmBIRDS OF AVALON – Volcom Recording Artist, ex-Cherry Valence
10:30pm Maleveller
9:20pm Yam
8:30pm Dead Beat Poetry
@ The Lounge On Elm St
2810 Elm Street
Dallas
Ages 18+ $8 show
Psychedelic rock from six-piece, Birds of Avalon, and mean metal from Maleveller. Go to mp3 section for tunes from Maleveller's first Demo.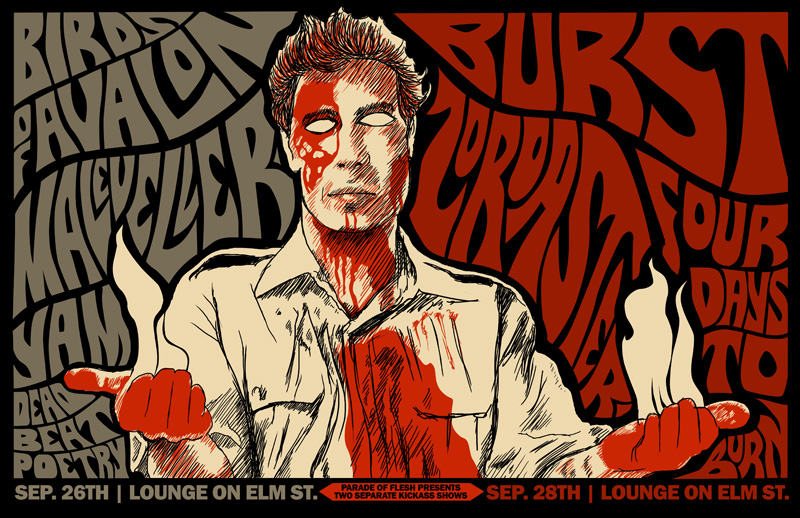 This entry was posted on September 21, 2009 at 12:01 am, filed under News.
Bookmark the permalink.
Follow any comments here with the RSS feed for this post.
Both comments and trackbacks are currently closed.