FREE Movie Screening, Live Performance and Liquor.
This TUESDAY, NOVEMBER 3rd at 7:00PM SHARP at LAKEWOOD THEATER:
FREE: Movie Screening of HORI SMOKU SAILOR JERRY: A Film About the Life and Times of American Tattoo Master Norman K. Collins. This documentary "explores the roots of American tattooing through the life of its most iconoclastic figure, Norman "Sailor Jerry" Collins."
FREE: Performance from AUSTIN's WOVEN BONES. First Dallas appearance. In their short career, WOVEN BONES have built a solid following in Austin and already have out-of-print releases on record labels, such as Needless Recs, Hozac Records and Sweet Rot. Originally from Orlando, Woven Bones made a smart move to Austin to showcase their simple drum beat driven soul punk sound. For fans of Crocodiles and Jesus & Mary Chain.
FREE: Sailor Jerry Rum Drinks
MUST RSVP: HORISMOKUMOVIE.COM/DALLAS_SCREENING
21+ ONLY. THANKS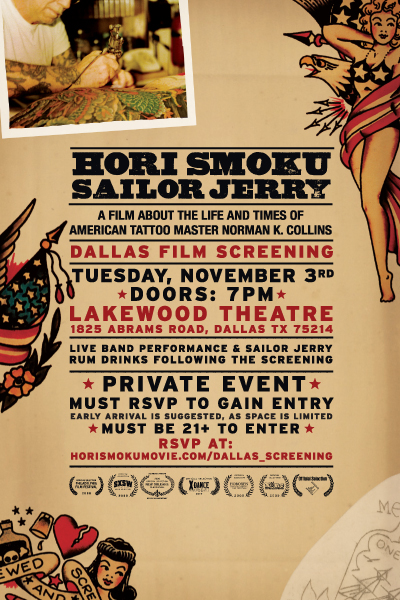 This entry was posted on November 1, 2009 at 12:01 am, filed under News.
Bookmark the permalink.
Follow any comments here with the RSS feed for this post.
Both comments and trackbacks are currently closed.