Some Velvet Morning Lyrics + mp3s
I found these "Some Velvet Morning" lyrics on the floor of Pastime Tavern, on Monday, when I was picking up my PA from Saturday's show. I believe Shapes Have Fangs performed the Lee Hazelwood cover. Here is a version of "Some Velvet Morning" (mp3) by SLOWDIVE, off of Souvlaki and a completely different and UPBEAT interpretation of "Some Velvet Morning" (mp3) by UK psychedelic drug-fueled icons Primal Scream featuring Kate Moss. FYI, this is the original version from Evil Heat, not that extended remixed garbage off Dirty Hits.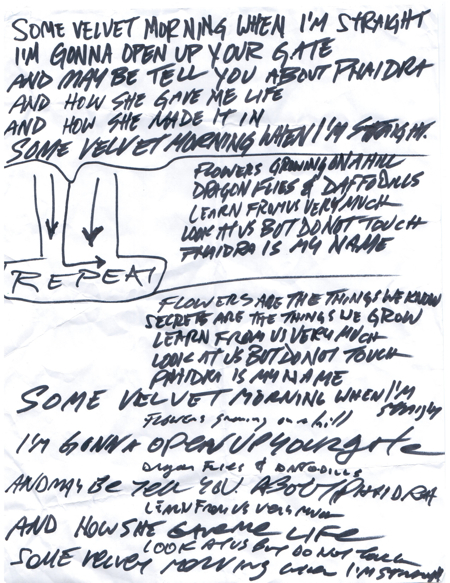 This entry was posted on November 18, 2009 at 9:09 pm, filed under News.
Bookmark the permalink.
Follow any comments here with the RSS feed for this post.
Both comments and trackbacks are currently closed.