THIS SUNDAY!!! (and Next TUESDAY)
Sunday, August 29th, 2010 – 8PM
11:00TWEAK BIRD (VOLCOM), added late.
Two Philadelphia based experimental noise punk acts stop through town:
10:20 DRUMS LIKE MACHINE GUNS
9:30 HEAVY MEDICAL
8:40 Depths
at The Nightmare
2810 Elm Street
All Ages show, $7
———————–
Tuesday, August 31st, 2010 – 8PM
10:30 TITUS ANDRONICUS (Glen Rock, NJ – XL recordings)
9:30 – Soft Environmental Collapse
8:30 – The Bizarro Kids
@ Sons of Hermann Hall (cash only bar)
3414 Elm St
Dallas
All Ages Show, $10 adv, $13 dos
ON SALE HERE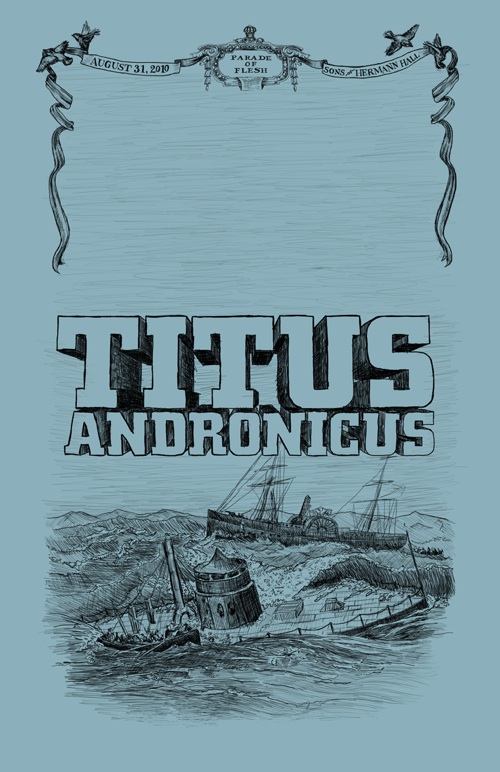 TITUS ANDRONICUS – Aug 31st at Sons of Hermann Hall. I had them play at the Lounge on Elm in August 2008 and they ended the set with a cover of "Where Eagles Dare" by The Misfits. Since then, they have come back to Dallas twice: played at Club Dada opening for Los Campesinos! tour in Jan/Feb 2009 and this past March at Good Records for a lengthy in-store appearance pumping their Civil War + Suburban New Jersey influenced album, The Monitor (XL Recordings). MS note: Sons is CASH ONLY.
This entry was posted on August 26, 2010 at 12:25 am, filed under News.
Bookmark the permalink.
Follow any comments here with the RSS feed for this post.
Both comments and trackbacks are currently closed.