Recently Acquired: FREE EDITION
New stuff since the last time . . . but free!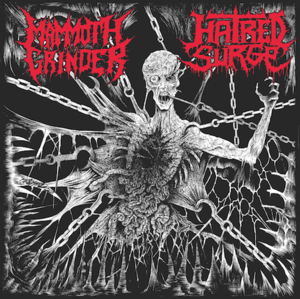 HATRED SURGE/MAMMOTH GRINDER – Split 12″ (cyclopean) – 100 Pre-sale sold out. 500 total pressed = 400 remaining which will go on sale Feb 14th. Stream here.
V/A – NYC SUCKS: Vol. 1 (metal sucks) – Compiled by metalsucks.net, this FREE 14-song treasure highlighting the current NYC metal scene. Look for Vol. 2. soon. Download here.
1. East of the Wall, "The Ladder"
2. Made out of Babies, "Invisible Ink"
3. Tiger Flowers, "Cuts"
4. Black Anvil, "The Evil of All Roots"
5. Naam, "Frosted Tread"
6. Batillus, "The Children of the Night Make Their Music"
7. Meek is Murder, "Sundowners" (demo)
8. The Binary Code, "Encircled"
9. Castevet, "Stones"
10. Hung, "Desert of Sad"
11. Wizardry, "The Falconer"
12. Pyrrhon, "King of All Tears"
13. Mutant Supremacy, "Epitaph"
14. Incendiary, "Victory in Defeat"
V/A – FLOWERS In the DUSTBIN (zoomusic) -" exclusive release featuring eight previously released ZOO MUSIC tracks from Dum Dum Girls, Crocodiles, Dirty Beaches and many more. The record is available today for a limited time free of charge here."
01. Neon Jesus – Crocodiles
02. If You're Gold, I'm Gone – Woven Bones
03. Restless – Reading Rainbow
04. True Blue – Dirty Beaches
05. White Hate – Beaters
06. Turns To Blood – Flight
07. Sunny Skies – Pink Playground
08. Mercury Mary – Dum Dum Girls