New Show: Real Estate, Pure Ecstasy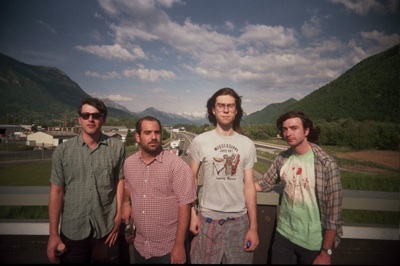 I'm delighted to be bringing REAL ESTATE back to town, this time with Austin's Pure Ecstasy. I got lazy trying to come up with something clever when the mighty wikipedia was spot on: "Real Estate is a psychedelic surf pop band hailing from Ridgewood, New Jersey now rooted in Brooklyn, N.Y." REAL ESTATE have releases on True Panther Sounds, Mexican Summer, Underwater Peoples and Woodsist and also features Matthew Mondanile aka Ducktails. Download their rare Tour CD-R, Atlantic City Expressway (found via google search).
Friday, April 8th, 2011
REAL ESTATE (woodsist)
PURE ECSTASY
@ Dada
2720 Elm St. Dallas, TX
$10 advance tickets on sale Friday here or at Good Records.
All Ages
This entry was posted on March 2, 2011 at 5:41 pm, filed under News.
Bookmark the permalink.
Follow any comments here with the RSS feed for this post.
Both comments and trackbacks are currently closed.