Free poster for Tuesday's Show w/ OBITS & JAILL
Free poster to first 20 people who come to Tuesday's show w/OBITS & JAILL and Cocky Americans.
(yes it says still corners, but they backed out of certain dates).
Silk-screened artwork commissioned by illustrator James Heimer.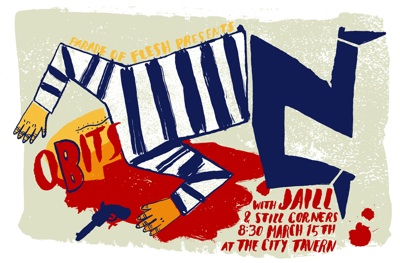 TUESDAY, March 15th, 2011 – 8:30pm
OBITS (nyc)- NYC, ex-Hot Snakes/Drive Like Jehu: touring on their 2nd album for sub pop "Moody, Standard & Poor" – very limited tour dates. Mp3: "Shift Operator" via subpop.
JAILL (milwaukee)- also on sub pop. "Everyone's Hip" via subpop.
Cocky Americans (dallas) – just returning from a show in Canaduh!
@ City Tavern
1402 Main St
Dallas, TX
$8 advance/ $10 day of show HERE.
21+ only, or bring a parent if under.
This entry was posted on March 13, 2011 at 12:44 pm, filed under News.
Bookmark the permalink.
Follow any comments here with the RSS feed for this post.
Both comments and trackbacks are currently closed.