Next Tuesday (house party)
No Kid N' Play, but two bands will perform. Arrive on time.
Los Angeles three-piece DUNES (feat. mem. of Mika Miko) will return once again to Dallas, this time with TRUE WIDOW at a house. Dunes has previous releases on Mexican Summer and art fag. True Widow's newest release is available on kemado records.
Come early for this intimate show. You will feel cool coming to this one.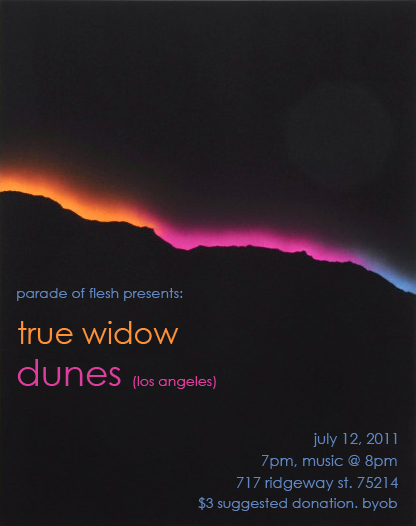 Tuesday, July 12th, 2011
9PM – TRUE WIDOW
8PM – DUNES (los Angeles)
717 Ridgeway St. 75214
$3 donation
byob
respect the house for letting us host the show.
This entry was posted on July 5, 2011 at 10:30 am, filed under News.
Bookmark the permalink.
Follow any comments here with the RSS feed for this post.
Both comments and trackbacks are currently closed.