Next Wednesday: COUGH / The BODY / BRAVEYOUNG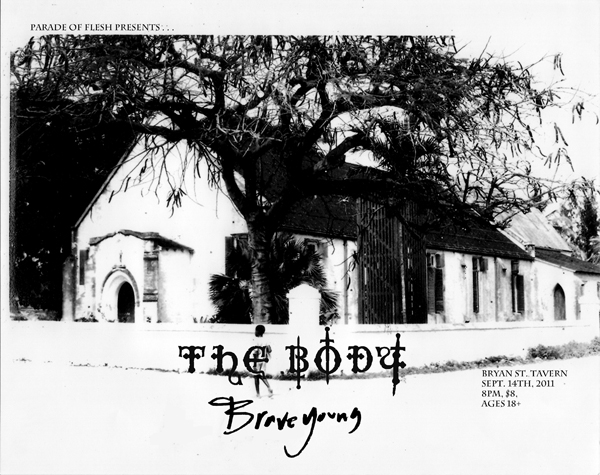 Intelligent metal fans beware! ONLY TEXAS SHOW!!
COUGH will headline this bad boy.  My second time to bring COUGH through and my third time to bring Providence doom duo (sometimes trio) The BODY to Dallas. Touring with them will be experimental instrumental act BRAVEYOUNG. BraveYoung was formerly known as GIANT (from North Carolina), who I've dug for quite awhile. Listen before assuming even though the word "metal" is used to describe these bands.
Parade of Flesh presents . . .
Wednesday, September 14th, 2011 – 8pm
COUGH
The BODY (providence)
BRAVEYOUNG
at Bryan St. Tavern
4315 Bryan Street
Dallas
$8 advance
$10 day of show
18+ show ($3 more to venue for under 21+)
on sale now
This entry was posted on September 7, 2011 at 10:00 pm, filed under News.
Bookmark the permalink.
Follow any comments here with the RSS feed for this post.
Both comments and trackbacks are currently closed.