Next Monday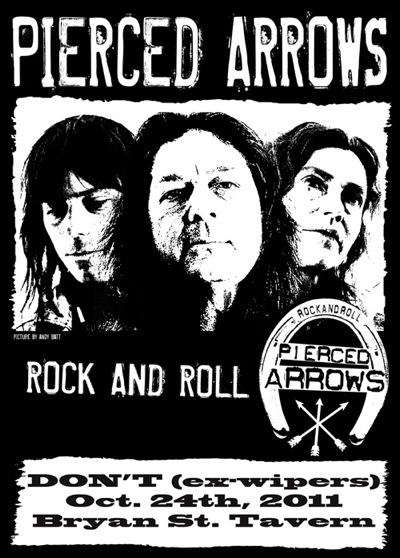 Woo hoo!, This is an essential garage rock show to attend if you are a fan of any modern garage rock. PIERCED ARROWS are an underground garage rock trio from Portland, comprised of a married couple and a drummer. They use to be in legendary Pacific Northwest punk band DEAD MOON. Pierced Arrows are currently on Vice Records with their album Descending Shadows and will be coming through Dallas along with surf-rock act DON'T featuring Sam Henry of the influential punk band WIPERS.
Parade of flesh presents . . .
Monday, October 24th, 2011 – 8PM
PIERCED ARROWS (ex-Dead Moon)
DON'T (ex-Wipers)
The 1969′s
@ Bryan Street Tavern
4315 Bryan St
Dallas
$7 tickets for over 21+
$10 for under
Ages 18+ show
On sale now
Facebook page
This entry was posted on October 17, 2011 at 11:17 pm, filed under News.
Bookmark the permalink.
Follow any comments here with the RSS feed for this post.
Both comments and trackbacks are currently closed.