Crystal Antlers at Good Records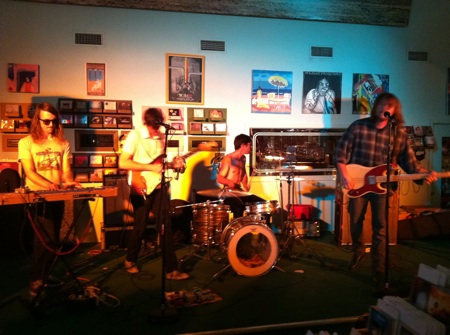 Long Beach, CA's CRYSTAL ANTLERS played at Good Records Sunday afternoon for a matinée show along with local act NEW FUMES and Austin's BOYFRNDZ. Surprisingly, the normally solo, New Fumes featured Clay Stinnet on drums. Crystal Antlers performed as a four-piece since percussionist Damien Edwards was not able to join them for this portion of the tour. Lead singer, Johnny Bell's voice went out early into the set so they shredded instrumental versions of songs from their newest album Two-Way Mirror plus "Andrew" off of Tentacles and "A Thousand Eyes" from their first EP. Crystal Antlers are always so enthralling live that the absent vocals did not deter anyone from enjoying their set.
Set-list. 10/30/2011:
Knee Deep
By The Sawkill
Summer Solstice
Andrew
A Thousand Eyes
Two-Way Mirror
Dog Days
This entry was posted on October 31, 2011 at 1:21 pm, filed under News.
Bookmark the permalink.
Follow any comments here with the RSS feed for this post.
Both comments and trackbacks are currently closed.