New Show: KING KHAN & The SHRINES w/ JACUZZI BOYS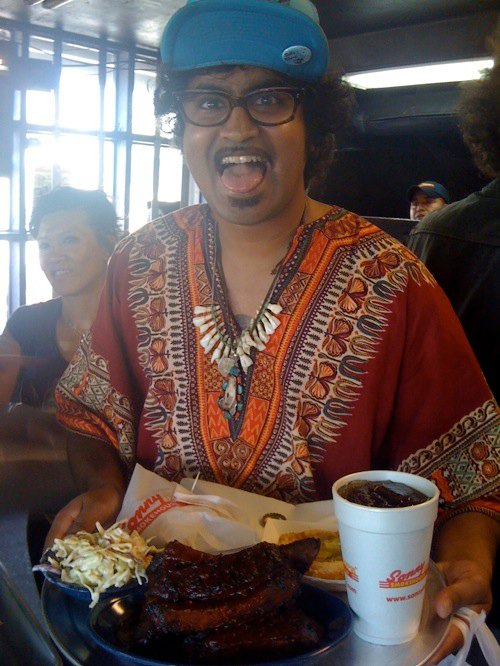 Holy smokes!!  Announcing the return of KING KHAN & The SHRINES to SONS OF HERMANN HALL!! this time with Miami, FLAs JACUZZI BOYS!!  This show will not disappoint. People still tell me how great the King Khan & The Shrines show was at Sons of Hermann Hall back in April 2010 with The Fresh & Onlys and Bad Sports. Were you there?
Parade of Flesh presents . . .
Monday, February 6th, 2012 – 8pm
KING KHAN & The SHRINES (vice)
JACUZZI BOYS (hardly art)
@ Sons of Hermann Hall
3414 Elm St.
Dallas, TX
All Ages, $tba/on sale Friday via frontgate tickets.
Although, technically, NOT King Khan & The Shrines, you can currently download (for FREE) the new King Khan Experience from Scion/Vice.
Questions to consider: Were you lucky enough to eat BBQ w/ KING KHAN & The SHRINES at the Original Sonny Bryan's on Inwood Road? Did you hear his wonderful song about the baron of beef?  Did you catch Jacuzzi Boys when we hosted them at the Cavern in May of 2010? If you said "no" to any of the above, then pay attention to POF and you'll find out about more wonderful things; or join our mailing list by emailing cyu AT paradeofflesh DOT com
This entry was posted on December 6, 2011 at 12:00 pm, filed under News.
Bookmark the permalink.
Follow any comments here with the RSS feed for this post.
Both comments and trackbacks are currently closed.