Bro Far . . . a Bro Fest 2012 announcement: more bands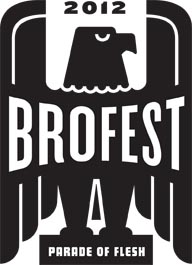 Last month we announced our annual BRO FEST 2012 occurring on March 18th. Today we are revealing a third batch of acts in addition to the previous ten that were announced last month. Tickets are on sale now. We now have:
Previously announced:

Parade of Flesh presents . . .
Sunday, March 18th, 2012 – 12noon
@ Club Dada; Two Stages, all day.
2720 Elm St – Dallas, TX
All Ages
$17 advance tickets, on sale now
$25 day of show
Facebook Event Page
* – lineup subject to change b/c life happens.
This entry was posted on January 10, 2012 at 8:00 am, filed under News and tagged apmd, asiwyfa, bro fest 2012, cerebral ballzy, club dada, coathangers, crocodiles, crystal antlers, growlers, handsome furs, narrows, prince rama, sleepy sun, the men, titus andronicus, white mystery.
Bookmark the permalink.
Follow any comments here with the RSS feed for this post.
Both comments and trackbacks are currently closed.