Bro Far . . . A Bro Fest 2012 Announcement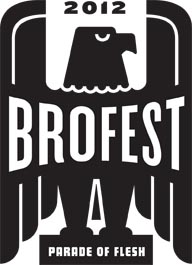 Here is another batch of acts to be playing BRO FEST 2012 at Club Dada.
Tickets are a steal for only $17 for 20 touring acts; available here.
The Good News:
and the event will be hosted by Neil Fridd of The TERROR PIGEON DANCE REVOLT!
The Bad news: The Entrance Band & Cerebral Ballzy are canceling their ENTIRE SXSW PLANS including Bro Fest 2012. Sorry, life happens.
in addition too:
This entry was posted on January 31, 2012 at 9:00 am, filed under News and tagged apmd, asiwyfa, bro fest 2012, club dada, coathangers, coliseum, crystal antlers, gauntlet hair, growlers, hospitality, maps & atlases, narrows, netherfriends, off!, prince rama, sleepy sun, the men, titus andronicus, white mystery.
Bookmark the permalink.
Follow any comments here with the RSS feed for this post.
Both comments and trackbacks are currently closed.