Listen to a BRO FEST 2012 Playlist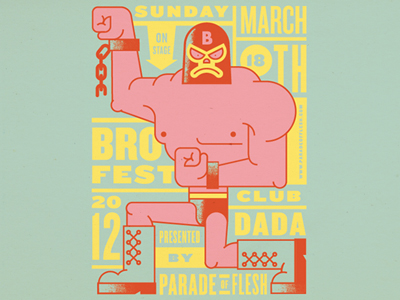 Here's what to expect on March 18th, 2012 at Club Dada & La Grange:
BRO FEST 2012 mp3 podcast(s):
Listen here to the Indie/Garage bands:
Bass Drum of Death – Heart Attack Kid
The Coathangers – Call to Nothing
Crocodiles – Sunday (Psychic Conversation #9)
Crystal Antlers – Summer Solstice
Gauntlet Hair – Sea Lion Goth Blues
Hospitality – Friends of Friends
Maps & Atlases – Winter
Netherfriends – Bloomington, IN
Prince Rama – Trust
Sleepy Sun – Stivey Pond
Titus Andronicus – Richard II
White Mystery – Blood & Venom
Or the click here for the heavier set of songs from punk/hc bands:
All Pigs Must Die – God Is War
And So I Watch You From Afar – Search:Party:Animal
Balaclava – The Geometer's Hand
Code Orange Kids – Take (the Soil is calling)
Coliseum – Waiting (too late)
Full of Hell – Affirmation of Nothing
The Men – Ex-Dreams
Narrows – Under The Guillotine
OFF! – Poison City
Tickets on sale now at frontgate and thanks to Indie-verse, Mr. Sweet's Hydro and more.
If you'd like to mix it up.. then click on the last.fm Bro Fest 2012 event radio, but it gets some of the artists wrong. . .