Bro-Nus (Bro Fest 2012 bonus): SAVE 4 before 4 + Giveaways, schedule
People of Earth,
Bro Fest 2012 is finally upon us!! And we have  TWO DEALS for you:
FIRST: Save 4 before 4. In other words, save $4 before 4pm on Sunday. $17 advance tickets are no longer available. Tickets are now $25 plus services charges, but to combat that we're offering you an early walk-up deal of only $21 for almost 30 bands (29).  SAY "FOUR BEFORE FOUR" and get there before 4PM, duh.
First band, Netherfriends, begins at 1:30PM followed by Growlers, Hospitality, Gauntlet Hair, Titus Andronicus & White Mystery all by 4pm. If you'd like to start your day off heavy, then Big Fiction starts off at La Grange at 4pm.
SECOND:  GIVEAWAYS: We'll be taking all the pre-sale names and entering them in drawings for all upcoming shows, t-shirts, bro-fest posters. We'll have a table set-up and we'll be having hourly giveaways. So check the merch booth to see if you're name was picked and then you choose a prize.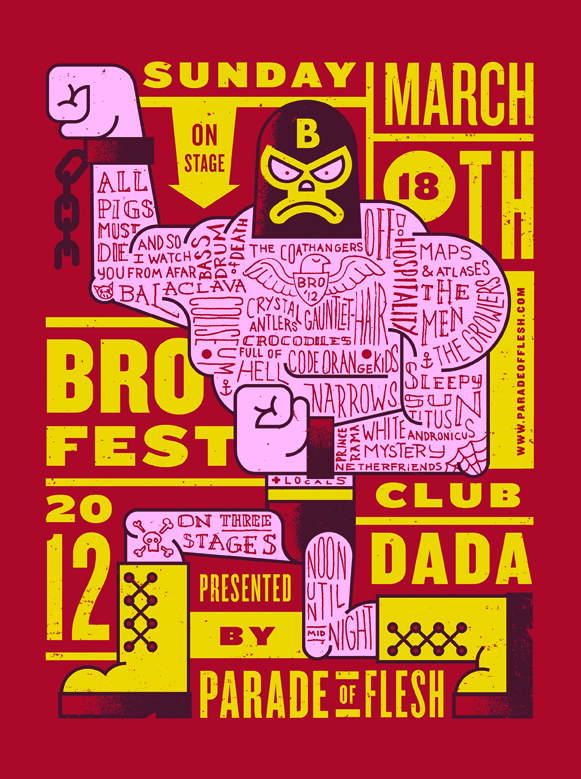 The rest of the info you need to know:
DOWNLOAD SCHEDULE (.PDF – save to iBooks for maximum satisfaction)
When: Sunday, March 18th, 2012 from Noon till Midnight
Enter/Pay at Club Dada
Main Stages: Club Dada – 2720 Elm St. – Dallas, TX (two stages)
Third Stage: La Grange – 2704 Elm St.
Cost: $17 advance, $25 day of show on sale NOW at Frontgate Tickets
Ages: All Ages
Food: We will have a selection of various food trucks to feed you.
EVENT PAGE (INVITE YOUR FRIENDS!)
* – lineup subject to change b/c life happens.
Why didn't I do $5 before 5pm and make it an even $20? B/c presales end up being $21.25 with service charges & fees if you purchased a $17 pre-sale ticket, so I thought it wasn't fair if I made walk-up tickets cheaper.