New Show: LOWER DENS / NO JOY / Alan Resnick
We are beyond stoked to announce LOWER DENS & NO JOY with Comedian Alan Resnick to open at Club Dada on Sunday, June 24th, 2012.
LOWER DENS features Baltimore via Texas, JANA HUNTER. Last fall we hosted Lower Dens' member CARTER TANTON with The War on Drugs & Purling Hiss.
NO JOY is awesome and loud and Alan Resnick will make you laugh. Watch him discuss the new album NOOTROPICS: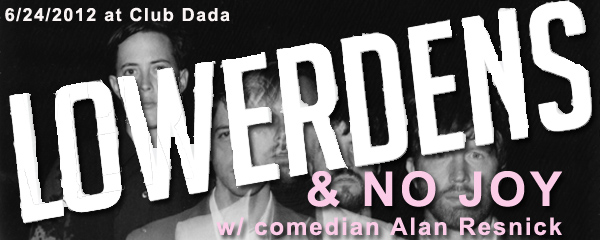 Parade of Flesh presents . . .
Sunday, June 24th, 2012 – 8pm
LOWER DENS
NO JOY
Alan Resnick
at Club Dada
2720 Elm St.
Dallas TX
All Ages $10 advance, $13 day of show
On Sale MAY 3rd at frontgatetickets
This entry was posted on May 1, 2012 at 9:00 am, filed under News.
Bookmark the permalink.
Follow any comments here with the RSS feed for this post.
Both comments and trackbacks are currently closed.