More bands added to SPILLOVER #spill13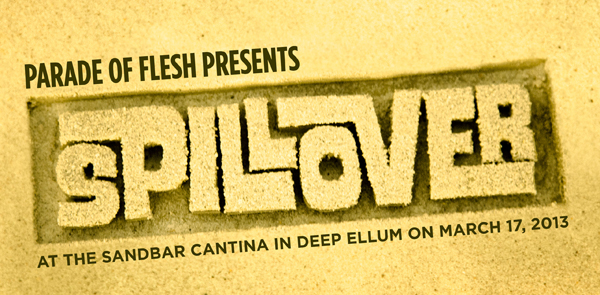 Here's the next batch of artists to play this year's SPILLOVER (formerly known as Bro Fest) at the Sandbar Cantina in Dallas on March 17th, 2013. GET YOUR TICKETS NOW for only $15.91 (actually $19.99 w/ taxes & cc fees).
We are extremely excited to announce:
more tba soon?
Bands previously announced for SPILLOVER 2013:
BLACK TUSK (Savannah, GA)
BRONCHO (Oklahoma City)
JAILL (Milwaukee)
MONDO GENERATOR (Nick Oliveri of Dwarves/Queens of the Stone Age)
NOBUNNY (Oakland, feat. mem. of Bad Sports)
The ORWELLS (Chicago)
SINGLE MOTHERS (London, Ontario)
VIETNAM (New York City – reunion!)
WHITE MYSTERY (Chicago)
WIDOWSPEAK (Brooklyn)
ZECHS MARQUISE (El Paso)
Date: March 17th, 2013
Location: SANDBAR CANTINA – 317 S. 2nd Ave, Dallas, TX 75226, at the corner of Second Ave and Canton in Deep Ellum.
Advance tickets only $15.91, purchase at ticketfly ($19.99 incl. taxes and cc fees)
All Ages!
Day of Show tickets tba
This entry was posted on January 15, 2013 at 9:00 am, filed under News and tagged bro fest, bro fest 2013, dallas, parade of flesh, sandbar cantina, spillover 2013, spotify, sxsw spilover, ticketfly.
Bookmark the permalink.
Follow any comments here with the RSS feed for this post.
Both comments and trackbacks are currently closed.