More Spill for SPILLOVER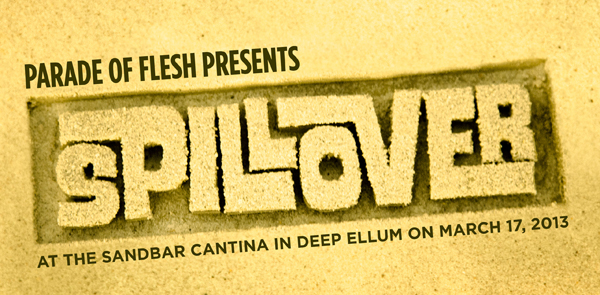 We are adding some of our favorite locals to Spillover at the Sandbar Cantina on 3/17 (Tickets only $19.99)
BARING TEETH
The BIRDS Of NIGHT
LONESOME GHOST
PINKISH BLACK
Also we will end the night with a "FREE w/wristband only" after-party (21+)
at Doublewide – 3510 Commerce St., Dallas
with:
PALLBEARER (Little Rock)
KEN MODE (Winnipeg)
HOWL (Providence)
MUTILATION RITES (nyc)
Previously announced:
ALEX BLEEKER & The FREAKS (Ridgewood, NJ feat mem. of Real Estate)
BLACK TUSK (Savannah, GA)
BRONCHO (Oklahoma City)
The COATHANGERS (Atlanta)
DUCKTAILS (Ridgewood, NJ feat. mem. of Real Estate)
JAILL (Milwaukee)
MONDO GENERATOR (Nick Oliveri of Dwarves/Queens of the Stone Age)
NOBUNNY (Oakland, feat. mem. of Bad Sports)
The ORWELLS (Chicago)
PARENTHETICAL GIRLS (Portland)
PARQUET COURTS (Brooklyn)
SINGLE MOTHERS (London, Ontario)
TODAY Is The DAY (nashville)
VIETNAM (New York City – reunion!)
WHITE MYSTERY (Chicago)
WIDOWSPEAK (Brooklyn)
YOUNG WIDOWS (Louisville)
ZECHS MARQUISE (El Paso)
Date: March 17th, 2013
Location: SANDBAR CANTINA – 317 S. 2nd Ave, Dallas, TX 75226, at the corner of Second Ave and Canton in Deep Ellum.
All ages! Advance tickets only $19.99, purchase at ticketfly.
More info on our SPILLOVER page. Here's the official Spotify playlist:
and previously released teaser videos:
This entry was posted on February 5, 2013 at 9:00 am, filed under News and tagged baring teeth, cantina, dallas, howl, ken mode, mutilation rites, pallbearer, pinkish black, sandbar, spill13, spillover.
Bookmark the permalink.
Follow any comments here with the RSS feed for this post.
Both comments and trackbacks are currently closed.