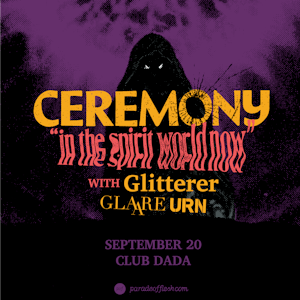 Ceremony
Glitterer, Glaare, Urn
Club Dada
Dallas
,
TX
pofTX presents CEREMONY with GLITTERER , Glaare, and Urn at Club Dada.
Ceremony (Facebook / Instagram / Twitter )
Ceremony's lead guitarist Anthony Anzaldo doesn't want to talk about the fact that his band has been around for over ten years. Or that they've drifted away from the hardcore genre that made them, or that they jumped ship from their long-time label, Matador Records, to join Relapse Records instead. Or that their sixth album will mark four years since the iconic punk band has released any new material. These things aren't ​really​ important. What matters is that ​In the Spirit World Now​ is Ceremony's most driving, intelligent collection of songs to date.
"We knew this had to be the best thing we have ever done," admits Anzaldo. "We couldn't come back after four years with a record that only had a few good songs."
Produced by Will Yip (Title Fight, Circa Survive, Turnover) and mixed by engineer Ben Greenberg (The Men, Pharmakon, Hank Wood And The Hammerheads), In the Spirit World Now​​ grows with each listen, balancing Yip's pop sensibilities with Greenberg's noise-punk influence through dramatic, shining synthesizer hooks and a mature vocal strategy. Drummer Jake Casarotti and bassist Justin Davis power through the 11-tracks as a strong yet sparse backbone that interlocks with guitarists Andy Nelson and Anzaldo to create a pop-centric, post-punk canvas for frontman Ross Farrar to expel the most vulnerable parts of himself. (And, thankfully, there are many.)
Farrar, who has been studying and teaching at the ​Syracuse University MFA Poetry Program​ for the past three years, has found himself as a vocalist on ​Spirit World​​, not only sounding more confident and in the pocket than he ever has before, but exploring amorphous lyrical territory about arrested development, botched relationships, and the never-ending hamster wheel of self-destruction so many creatives fall into.
"​I've been very interested in will, as in a person's faculty of consciousness and how we navigate actions and self-control," Farrar says. "I've been worried for a long time that my lack of self-control will inevitably destroy me, so any paranoia on that matter is focused on this record."
Glitterer (Facebook / Instagram / Twitter )
Glitterer was born in August of 2017, when the eponymous Glitterer EP appeared on Bandcamp. To some, Glitterer seemed to manifest the parallel identity, something between an alter-ego and a superego, of Ned Russin, who wrote, sang, and played every note of the EP's eight songs. Ned Russin is a New Yorker, by way of Northeastern Pennsylvania, a 29-year-old bassist and singer who made his name in music by playing in a band called Title Fight.
Glitterer features spartan instrumentation — bass, drum machine, synths, and a familiar voice — and its compositional ethos, such as the listener can grasp, lies in hyper-efficient deployment of discrete harmonic and melodic ideas, also known as verses, choruses, and bridges. The introspective but gnomic lyrics address the kinds of ontological, existential, epistemological, ethical, and moral questions one would expect might occur to a 20-something liberal-arts college student (which Ned was, at Columbia, at the time of Glitterer's release) all while wryly acknowledging the predictability of such heady questions arising under such heady conditions.
Not Glitterer, a five-song follow-up, appeared eight months later. As is suggested by the antinomic title, the newer EP is even more preoccupied with contemplating the exigencies and implications of regarding oneself and of regarding oneself regarding oneself and, of course, of regarding oneself regarding oneself regarding oneself. And, as with the first record, no song extends a second beyond what's necessary to deliver the minimally viable aesthetic and intellectual goods. One would be hard-pressed to name an artist that conveyed a higher concentration of stimulation and aural pleasure in 2017 and 2018.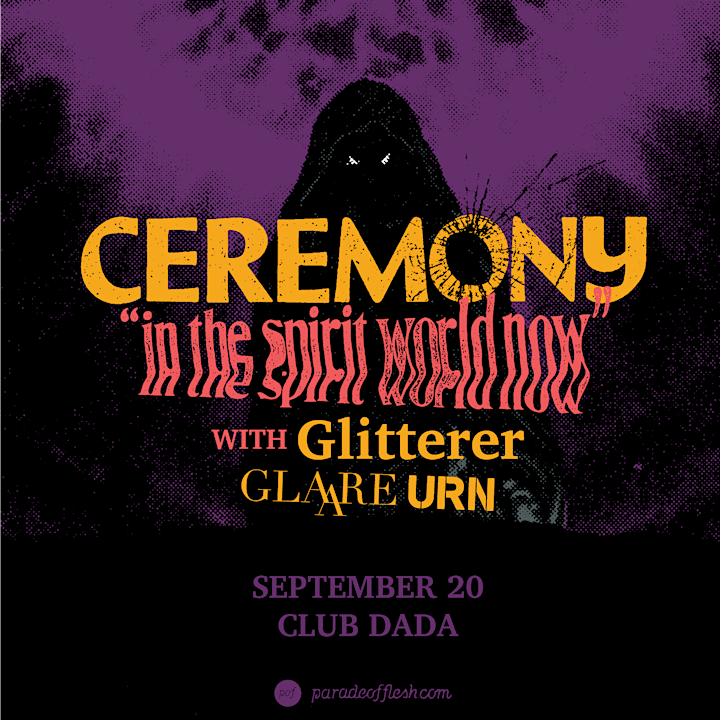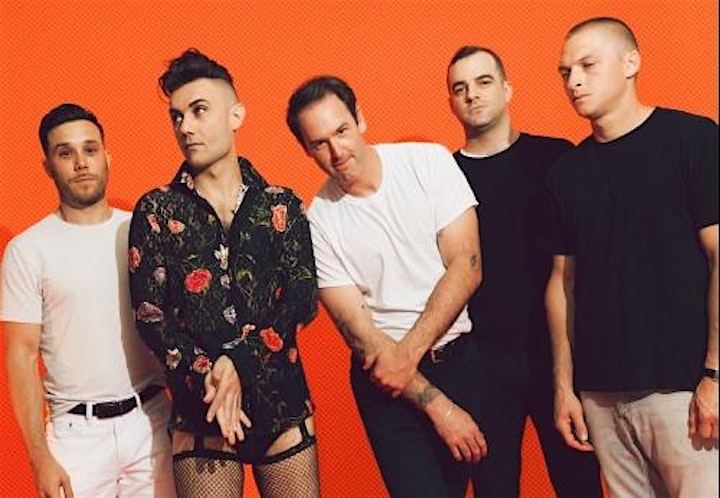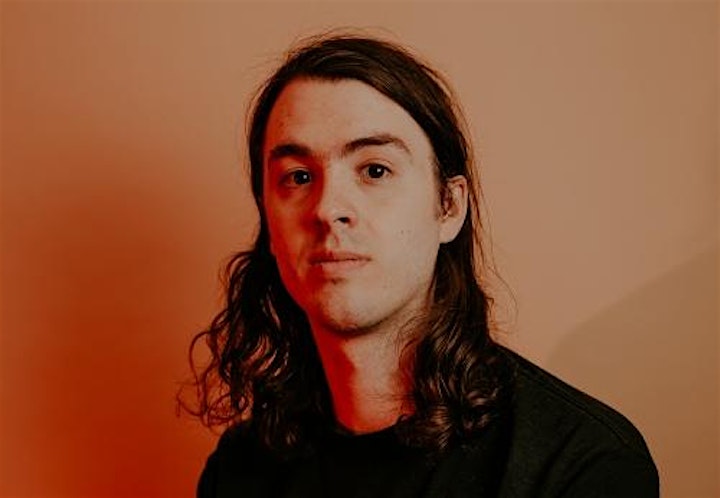 Venue Information:
Club Dada
2720 Elm St
Dallas, TX, 75226