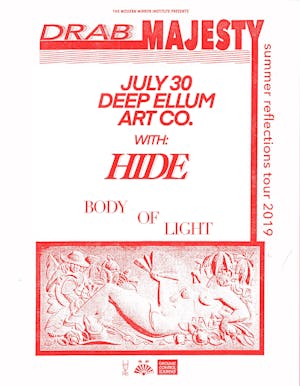 Drab Majesty
HIDE, Body of Light
Deep Ellum Art Co.
Dallas
,
TX
Parade of Flesh presents Drab Majesty, HIDE, Body of Light at Deep Ellum Art Co, Deep Ellum, Dallas, TX - dream-pop, shoegaze
Drab Majesty (Facebook / Instagram / Twitter)
Drab Majesty is a Los Angeles-based musical project founded by musician Deb Demure while working as the drummer for the band Marriages, in 2011. The project's first record was the 2012 EP Unarian Dances, first self-released and then re-released in 2014 on Lolipop Records.
HIDE (Facebook / Instagram / Twitter)
Starting in 2014 as a collaboration between visual artist Heather Gabel and percussionist Seth Sher, the Chicago based industrial duo known simply as HIDE was formed. The following three years have seen HIDE crash through with a number of aggressively rendered singles and EP's while quietly collecting the shattered pieces that would form their debut full length album, Castration Anxiety.
Those familiar with HIDE's provocative live performances will already be accustomed to the hypnotic low-end and sinister vocal delivery that has become the band's signature. The opening track, Fall Down, sets an eerie tone that permeates Castration Anxiety until the end. Throbbing pulses swirling around Gabel's death laden mantras succumb to themes harvesting power from desperation and hopelessness.
The first single and video for Wildfire, keeps the same repetitive, dark emphasis but delves deeper into the ideas of the physical world rejecting its inhabitants. Harkening back to the slow, brooding industrial anthems from decades before, HIDE's treatment of this sound is notably unique as it is familiar.
Body of Light (Facebook / Bandcamp)
Formed in 2012 in the wasted sands of Tempe, Arizona, electronic dance faction Body of Light have proven to be a teeming creative force within the present-day electronic landscape. As the archaic drones and abstract measurements of their earliest collections have evolved into to prodigious cinematic pop ballads and darkwave compositions, it's clear that the two brothers, Alex and Andrew Jarson, are no strangers to blurring the compositional lines that confine underground music. Having worked together and separately over the years within the folds of the co-founded Ascetic House collective, Alex and Andrew have given life to a variety of projects such as Otro Mundo, Blue Krishna, Somali Extract, and Memorymann, and also have unveiled over a dozen visual, audio, and written works under various other monikers. Body of Light is simply another extension of their exercised method of immediate and natural experimentation.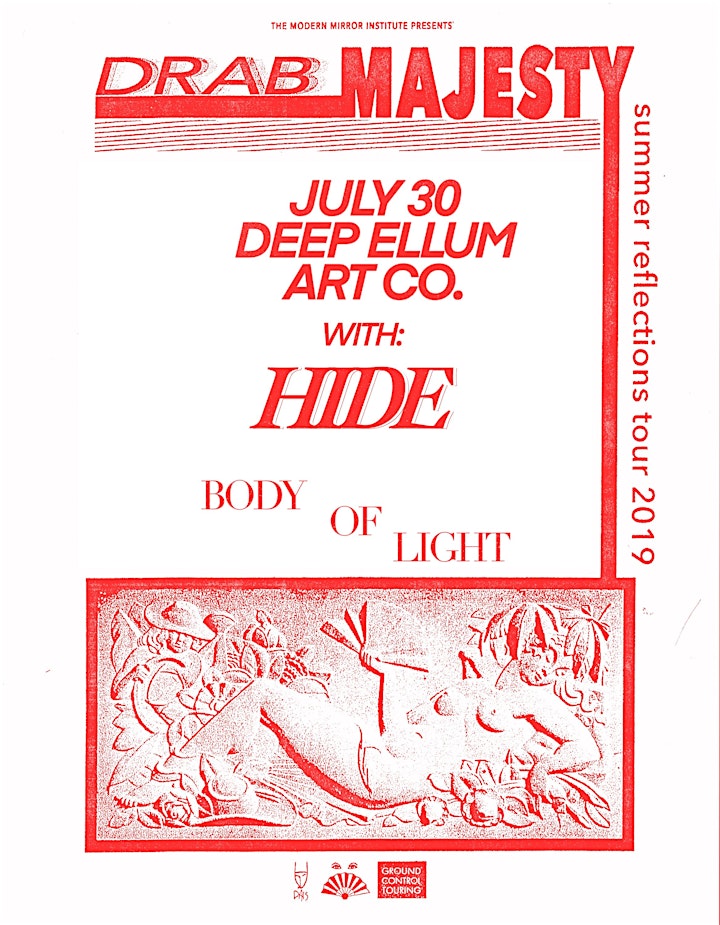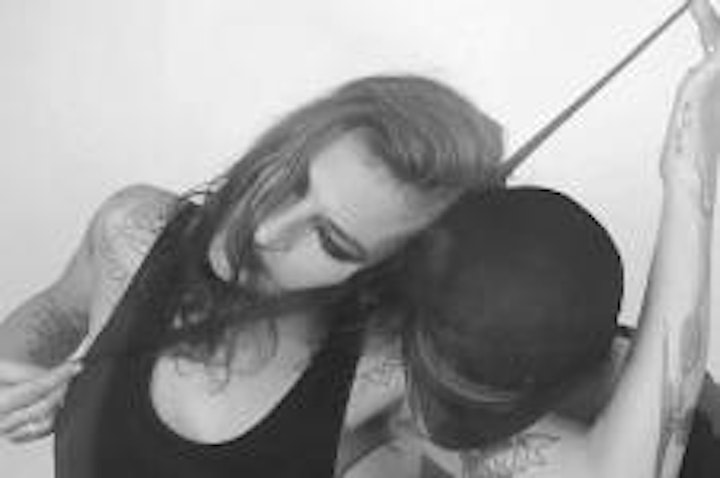 Venue Information:
Deep Ellum Art Co.
3200 Commerce St
Dallas, TX, 75226