Cave In
Russian Circles, Helms Alee, THE PRIMALS
Deep Ellum Art Co.
Dallas
,
TX
pofTX presents RUSSIAN CIRCLES, CAVE IN, HELMS ALEE, and The Primals at Deep Ellum Art Co, Dallas, TX
Russian Circles (Facebook / Bandcamp)
Cave In (Facebook / Instagram / Twitter)
Helms Alee (Facebook / Instagram / Twitter)
Every music nerd has gotten roped into the desert island conversation. You know—what's the one record you would bring with you to some remote location to provide solace for the rest of your days? Or better yet, what's the one band whose catalog would always remain fresh to your ears, even after years and years of isolation? Of course, the ideal candidate would be a band who has a significant body of work, a band who's songs span a variety of temperaments and timbres, and, obviously, a band that just plain rules. With their fourth album, Stillicide, Helms Alee prove that they might be the only group you would need for the rest of your life. Hyperbole? Perhaps. But the Washington state trio of Ben Verellen (guitar, vocals), Dana James (bass, vocals), and Hozoji Margullis (drums, vocals) delivers the kind of expertly crafted, dynamic, nuanced, and diverse songwriting that is both instantly engaging and—as evidenced by their previous albums Night Terror (2008), Weatherhead (2011), and Sleepwalking Sailors (2014)—increasingly gratifying after years of repeated listens.
With Stillicide, Helms Alee continues their sonic tradition of blending heavy riffs, dark guitar pop, and math rock into songs that are at turns brutal, anthemic, and cerebrally engaging. Starting with the syncopated poundage and epic piano line of "More Weight", Helms Alee demonstrates that they've fortified every angle of their attack. You want amp worship? Try to find a more barbaric chug than the riff in the appropriately titled "Galloping Mind Fuk". You want melodies so powerful you break out in goosebumps? Try to quell your follicles during the final crescendo of "Tit to Toe". You want one of those proggy odd-time signature moments where you can flex that you know where the "1" falls while banging your head? Listen to "Bullygoat" and bask in the knotty introductory guitar line that sounds like Duane Denison fucking with Depeche Mode's "Personal Jesus". Relish the brutalage of the title track. Savor the minor-key jangle of "Andromenous". Ride the tumultuous tug-of-war between savagery and serenity in the album closer "Worth Your Wild".
After nearly a decade of existence, one can only assume that a band is either entering their sunset years or striding with such artistic strength and confidence that they are creating a whole new legacy for themselves. With Helms Alee, it is obviously the latter scenario. The band set a high bar for themselves with their spectacular debut album Night Terror, but every subsequent release has trumped their previous endeavors. Bolstered by the recording and production expertise of Kurt Ballou at God City Studios, Stillicide is not only the group's strongest collection of songs, it is arguably their best sounding release to date. The heavier moments are that much more oppressive; their melodic angles are that much more beguiling, and the juxtaposition between Verellen's patriarchal roar and the siren song vocals of James and Margullis is that much more exhilarating. If there was only one band you could listen to for the rest of your life, Helms Alee would satiate most every emotional yearning. And if you could only pick one of their albums, you'd gravitate towards the best document of their textural range and songwriting chops. You'd gravitate towards Stillicide. - by Brian Cook
D.C's John Henry and Andrew Black connected in Los Angeles and began writing the songs which would complete the self-released 2015 Primals LP, then added bassist Chad Fjerstad to the mix. In 2017, they joined forces with producer John Reis to create their proper debut, "All Love Is True Love", available now through Southern Lord Records.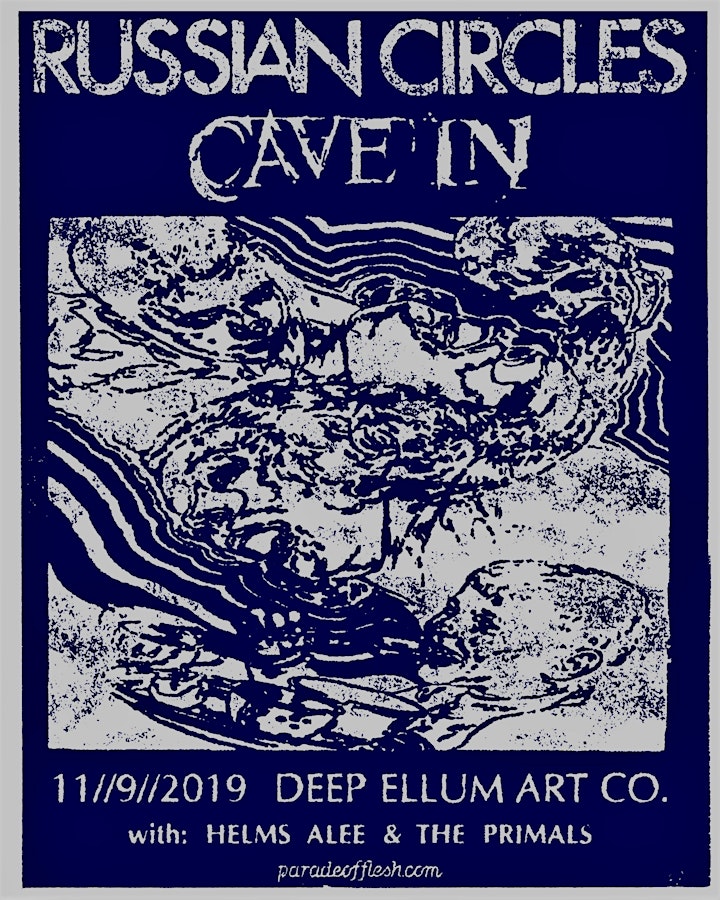 Venue Information:
Deep Ellum Art Co.
3200 Commerce St
Dallas, TX, 75226