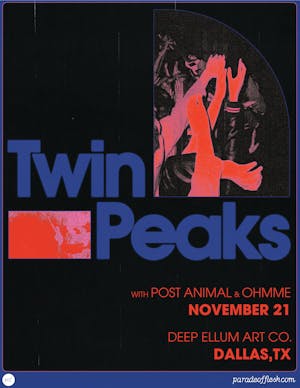 Twin Peaks
Post Animal, Ohmme
Deep Ellum Art Co.
Dallas
,
TX
pofTX presents: TWIN PEAKS, Post Animal, OHMME at Deep Ellum Art Co.
Twin Peaks (Facebook / Twitter)
Chicago's Twin Peaks have gleefully embraced change ever since their 2010 formation to become one of the city's most essential rock bands. With their fourth album Lookout Low, the sonic and creative leap the five-piece takes feels like a total revolution in their youthful sound. The 10-track effort was recorded and cut live over three weeks in Wales with legendary producer Ethan Johns. Thanks to the band's dedicated approach to rehearsing and demoing out their material before hitting the studio, the songs burst with life and the undeniable magic of their live show.2016's Down In Heaven connected with audiences in a big way, seeing the band taking over late night on CONAN, while landing festival slots at Lollapalooza, Bonnaroo & Coachella, and tours supporting luminaries like Spoon, Cage The Elephant, and Wilco.Armed with four excellent and collaborative songwriters, each member upped their game on Lookout Low. Guitarist Cadien Lake James' mind-bending opener "Casey's Groove" is expansive and reassuring, bassist Jack Dolan's "Unfamiliar Sun" is patient and affecting, guitarist Clay Frankel translates heartache into catharsis on the title track, while multi-instrumentalist Colin Croom reaches new performing heights on "Ferry Song." Lookout Low shows that Twin Peaks is less a band and more a brotherhood, one that's endured for almost a decade.
According to Cunningham, the band started because, "we knew we could sing well together, and we wanted to make some noise with the guitar". Both artists are trained as classical pianists and were familiar with the scope of sonic spaces keyboards had to offer but, according to Stewart, "since we were interested in experimenting and creating something different from what we had both done in the past, we chose guitar as our outlet for this band. We wanted to create parameters for ourselves that were both new and uncomfortable to force ourselves into a different creative space".
They have been dubbed "the heart of Chicago's music community," by Noisey.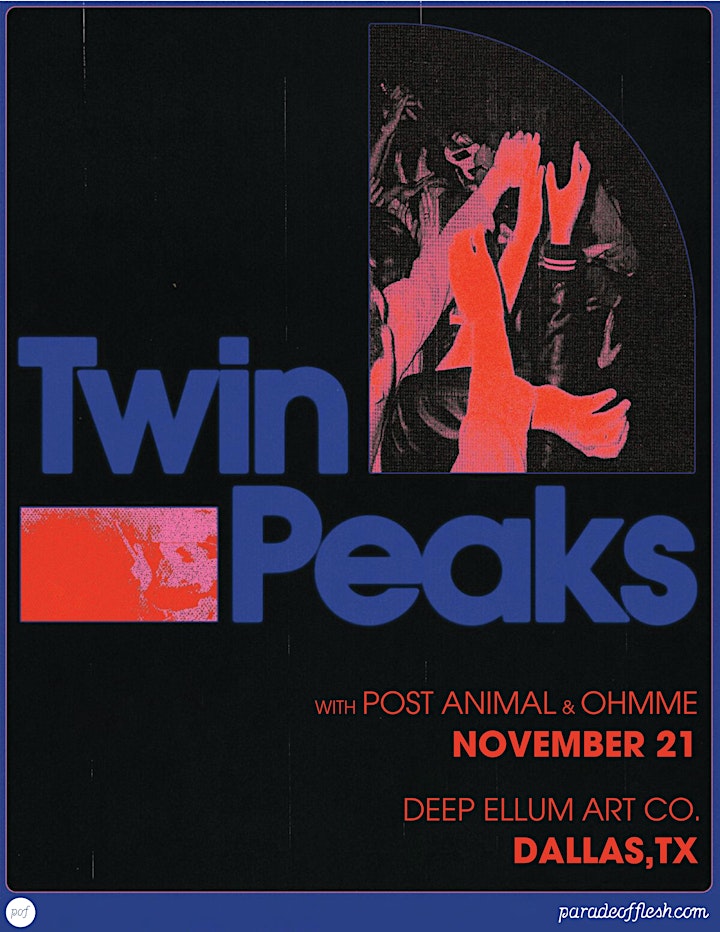 Venue Information:
Deep Ellum Art Co.
3200 Commerce St
Dallas, TX, 75226